UPDATED BRIEF: The driver of an SUV that crashed into a bus stop in Brownsville, Texas, killing eight people, has been charged with manslaughter. Police are investigating whether the crash was intentional. George Alvarez, 34, is believed to have lost control of his vehicle after running a red light on Sunday morning, plowing into a group of Venezuelans outside a migrant center. Police Chief Felix Sauceda announced that Alvarez has been charged with eight counts of manslaughter and 10 counts of aggravated assault with a deadly weapon. Authorities are waiting for toxicology reports to determine if Alvarez was intoxicated at the time of the incident.
Footage obtained from the ground
Surveillance footage obtained from the bus stop.
During a news conference on Monday, Sauceda reported that the SUV struck 18 people after running the red light and flipping onto its side. Six individuals died at the scene, and 12 were critically injured. The death toll later increased to eight. After the crash, Alvarez attempted to flee but was restrained by several bystanders. His bail has been set at $3.6 million.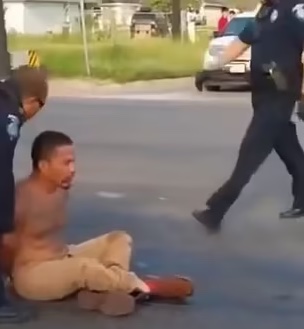 The victims, primarily Venezuelan men, were waiting for a bus to return to downtown Brownsville after spending the night at an overnight shelter, according to Sister Norma Pimentel, executive director of Catholic Charities of the Rio Grande Valley. Brownsville has recently experienced a surge in Venezuelan migrants, with authorities noting that 4,000 of the approximately 6,000 migrants in Border Patrol custody in Texas' Rio Grande Valley were Venezuelan as of Thursday.