Already a subscriber? Make sure to log into your account before viewing this content. You can access your account by hitting the "login" button on the top right corner. Still unable to see the content after signing in? Make sure your card on file is up-to-date.
Around 170,000 people took to the streets of Madrid on Saturday in a massive protest against a proposed amnesty law tied to Catalonia's 2017 separatist movement.
This law, a condition for forming Spain's Socialist government, has sparked widespread anger and protests nationwide. The protest came just two days after Socialist Prime Minister Pedro Sanchez secured a four-year term with the support of Catalan and Basque nationalist parties, contingent upon the enactment of the amnesty law.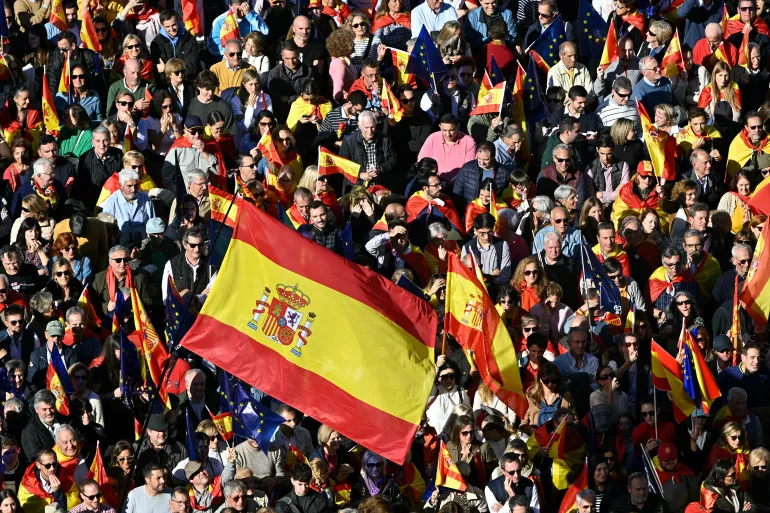 The amnesty is set to cover approximately 400 individuals involved in the 2017 independence movement, including separatists and police officers involved in clashes. This event marked Spain's most significant political turmoil in recent decades and led to a referendum declared illegal by Spanish courts. If passed, this amnesty would be the largest in Spain since the 1977 amnesty for Franco-era crimes and the first in the European Union since 1991.
Participants in the demonstration, many of whom displayed Spanish flags and signs accusing Sanchez of betrayal and selling out Spain, expressed their opposition to the law. This law, criticized by judicial associations, opposition parties, and business leaders, is seen as a threat to the rule of law and the separation of powers in Spain.
Key political figures, including Alberto Nunez Feijoo of the People's Party and Santiago Abascal of Vox, participated in the march, which civil groups organized. Additionally, the protest extended to the A6 motorway near the Moncloa Palace, resulting in a temporary closure before police intervention.